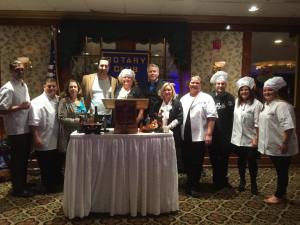 Rotarians Cory Schifter (Casale Jewelers, South Shore Rotary) and Frank Wilkinson (Rab's Country Lanes, North Shore Rotary) took home the titles of "Top Chef" during the North Shore Rotary's Celebrity Chef event held Monday evening, November 10, at LiGreci's Staaten.
The event raised over $5,000 for North Shore Rotary Club community projects.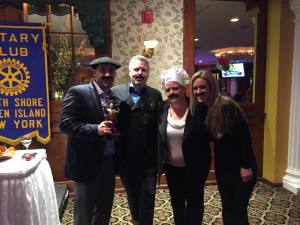 Local Community leaders Marylou Bavaro (Gateway Arms Realty), Dominick Ciccarelli (Think Design Architects),Christine DeHart (Salmon Real Estate and Club President), Massimo DiDonna (Partners in Sound), Robin Lefkowitz (Northfield Bank), Diane Arneth (Community Health Action of S.I.) Cory Schifter (Casale Jewelers), and Frank Wilkinson (Rab's Country Lanes) came together to compete in the friendly competition for the elusive titles.
'Ringers' Frankie Bilotti (Hell's Kitchen) and Warren Schierenbeck (Chopped) participated with Massimo DiDonna and Dominick Ciccarelli respectively.
Guest Host/Judge Greg Mocker (WPIX-11) selected Cory Schifter as the Judges pick for 'Top Chef' with his braised short ribs dish. Massimo DiDonna earned the Judges Runner-Up trophy with Frankie Bilotti's prepared Beef Bourguignon.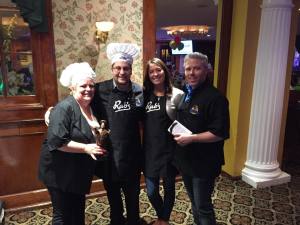 Frank Wilkinson wooed the attendees and earned their "bids" with his vegetable ravioli lasagna and bacon wrapped dates and earned the distinction of 'Fan Favorite Top Chef'. Marylou Bavaro was the Fan's Runner-Up with her famous chili. Marylou was also recognized with the Wooden Spoon award for the best decorated table.
All proceeds will benefit Staten Island charities designated by the North Shore Rotary Club. "This event is just one of the ways the North Shore Rotary along with community leaders come together to have some fun while raising money for our amazing community", says Christine DeHart, Club President.