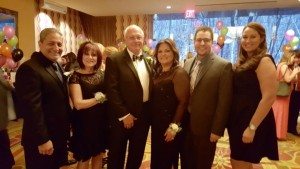 From the Staten Island Advace, silive.com. STATEN ISLAND, N.Y. — More than 600 revelers raised their glasses to toast On Your Mark Saturday evening, when the organization played host to its annual spring gala dinner dance at the Hilton Garden Inn, Bloomfield.
The organization provides therapeutic recreation, family support services, a residential program and supportive employment for individuals with disabilities of autism, intellectual impairment, neurological conditions and learning disabilities.
Proceeds from the gala support On Your Mark's mission of providing innovative and comprehensive community-based services to people with developmental disabilities across their lifespan.
John Bilotti, executive director of On Your Mark, noted: "I'm so thankful for the support of On Your Mark families, friends, and community members. With their help we've been able to accomplish so much this year: From the opening our brand new chocolate shop — the On Your Mark Chocolatiers, celebrating the grand opening of our newly renovated indoor swimming pool at the community center, and creating a new gift shop, Exceptional Creations. These projects were completed because of the support that On Your Mark receives from the Staten Island community, as evident from the 600 people in attendance this evening!"
The honorees for 2016 included Dan and Maria Bilotti and Frank Wilkinson.
Dan is the founder of Bilotti Brothers Contracting Corporation, a construction and maintenance company that's served Staten Island since 1984.
Maria is the general manager of Clerici Tessuto, an Italian textile manufacturer, and the President of Bilotti Brothers Contracting Corporation.
Both Dan and Maria are active in several non profit organizations on Staten Island including the YMCA, The Boy Scouts of America, the St. George Theatre, ECHO, Eger Heath Care and Rehabilitation Center, Cooley's Anemia Foundation, and On Your Mark.
In accepting the award, Dan Bilotti noted: "On Your Mark has been serving the community for over 30 years helping people with developmental disabilities and we are so proud and humbled to be accepting this prestigious award."
Frank Wilkinson received the Judge David G. Trager Memorial Community Recognition Award that honors the memory of Judge David G. Trager who was an active volunteer, community advocate, and board member of On Your Mark.
Frank is the sole proprietor of Rab's Country Lanes and has been a dedicated and generous supporter of On Your Mark especially with the bowling recreation program.
"We're honored to be able to provide a service for On Your Mark consumers to enjoy," said Wilkinson.
Teresa Cirelli, director of community relations and fundraising and co-chair of tonight's gala, stated: "I'd also like to thank everyone for being here tonight to support On Your Mark. I've been fortunate to work with Helen DiPaolo for the past year and a half and it's bittersweet for her to retire after working for the organization for over 20 years. I'm excited to continue the work that she's accomplished and grow On Your Mark's outreach and community involvement."
Music was provided by Partners in Sound.