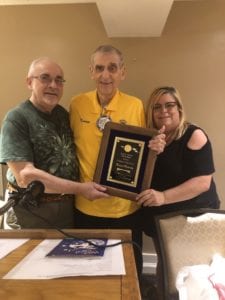 At this weeks' Club Meeting, the North Shore Rotary Club recognized Norman Delman, with Honorary Membership.
Honorary Membership is bestowed upon those who have distinguished themselves by meritorious service in the furtherance of Rotary ideals through their years of Service and Dedication.
In 2019, Norman celebrates 49 years as a Proud Rotarian and member of the Rotary Club of North Shore.  He served as Club President (1976-1977) and President of the Club's Foundation for over 10 years.  In 1980, Norman became the sixth Club Member to receive Paul Harris Fellow Recognition, awarded by the Club.
Norman is still an active member of the Club and serves on the Board of Directors for the North Shore Rotary Charitable Foundation.
With this recognition, Norman becomes the second Club Member to receive Honorary Membership status.
Joseph Sclafani, a member for over 50 years who had perfect attendance for 47 years, was the first club member to be recognized with Honorary Membership.
Thank you Norman for your Outstanding and Significant Selfless Service to our Club and Foundation!