By Carol Ann Benanti | benanti@siadvance.com
silive.com | Click here for the full story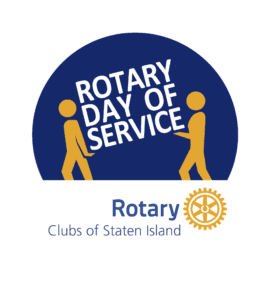 STATEN ISLAND, N.Y. — More than 500 Rotary clubs, including five clubs on Staten Island, will join more than 15,000 Rotarians, and thousands of volunteers spanning five states and three countries, who'll join forces to do good on Saturday, May 20 from 10 a.m. to 1 p.m.
They'll tackle wide-ranging projects from collecting clothing for the homeless and refurbishing long-neglected parks to feeding those with food insecurity.
The international initiative, which includes projects in Connecticut, Massachusetts, New York, New Jersey, Pennsylvania, Rhode Island, Bermuda, and Brazil, eclipses the Rotary Day of Service held in April 2022 with an expanded commitment from a coordinated network of Rotary Clubs and their members dedicated to improving the communities they serve.
"Rotarians are known for their tireless efforts to help those in need, and across the borough of Staten Island, but the 2023 Day of Service event will be the single largest coordinated multi-District Rotary community volunteer effort we've ever held in our region," said Frank Wilkinson, past president North Shore Rotary who is the Rotary Day of Service project coordinator. "The five Rotary Clubs located on Staten Island have joined forces after 9-11, Superstorm Sandy and every year at Thanksgiving fanning out to deliver food, supplies and boots on the ground and together again we are ready to spruce up five locations across Staten Island in need of clean ups," he added.
But the Rotary Day of Service isn't just for Rotarians.
Anyone who wants to "Get Behind the Wheel" and give back to their own communities can visit RotaryDayOfService.org and click on the 'Register to Volunteer' tab for information. Once registered, local clubs will contact volunteers and provide details. And students can receive community service hours for the project.
The five Rotary Clubs can use the help of individuals and groups who want to join forces on Saturday.
Staten Island is fortunate to be home to five Rotary Clubs who work together — the power of 100 plus community-minded professionals working together to make Service Above Self a priority.
The five Staten Island Rotary Clubs will turn their attention to cleaning at: Victory Boulevard/ Willowbrook Road, South Avenue/Service Road(1001 Goethals Road North) The Conference House (meet at Lemon Creek Fishing Pier 527 Sharrotts Ave, 10309), Serpentine Commons (entrance on VanDuzer Street near Broad Street, 599 VanDuzer Street), and the Garibaldi Meucci Museum/420 Tompkins Ave., 10304, beautification and cleanup.
For further information on the Day of Service projects, visit http://www.rotarydayofservice.org or email: frankjwilkinson@gmail.com.