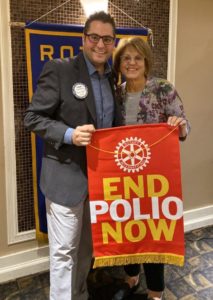 We celebrated World Polio Day a week early to recognize the progress made in the global fight to end polio!
We really are "this close" to eradicating polio and that all thanks to Rotary International and the hard work Rotarians have done for more than 30 years all over the Globe! Rotarians have contributed $1.9 Billion and countless volunteer hours to protect more than 2.5 billion children in 122 countries from this paralyzing disease.
Thank you PDG Janet DiBenedetto for providing insight! The club pledged money for the Rotary Foundation's PolioPlus fund that will get matched up to 3x by the Foundation and the Bill & Melinda Gates Foundation. Learn more at endpolionow.org!