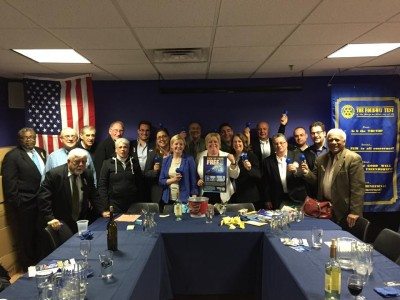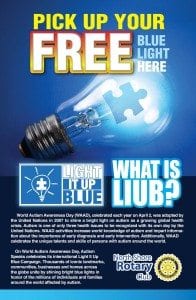 As part of its seventh annual Autism Campaign the North Shore Rotary is once again partnering with Autism Speaks to "Light Up" Staten Island blue through the month of April starting on April 2, 2015.
To commemorate World Autism Awareness Day on April 2 and Autism Awareness Month, Autism Speaks asks buildings and landmarks around the world to turn their lights blue on April 2.
The North Shore Rotary is kicking off the 2015 campaign by asking Staten Island to join the rest of the world by changing their light bulbs from white to blue to show their visual support and commitment to Autism Awareness.
In the past 3 years, over 3,000 lightbulbs have been distributed through our efforts.
Blue light bulbs are available for FREE through the following participating local businesses: BetterBizWorks (1855 Victory Boulevard), Café Del Mondo (2530 Victory Boulevard), Computer & Parts Unlimited (1957 Victory Boulevard), Dr. Waguih Sidhom, DDS (5 Keegans Lane), Lighting Design Associates (250 Buel Avenue), Merrill Lynch Wealth Management (900 South Avenue), Rab's Country Lanes (1600 Hylan Boulevard), Salmon Real Estate (1855 Victory Boulevard) S.I. Mortgage Group (1678 Hylan Boulevard, 10305), South Shore Wellness (639 Sinclair Avenue, 10312) and Williams Eye Works (1884 Victory Boulevard).
This campaign has raised over $150,000 in the last six years for Autism programs on Staten Island including: Eden II, GRACE Foundation, JCC, On Your Mark, P.S. 373 Music/Dance Troop, and T.R.Y.