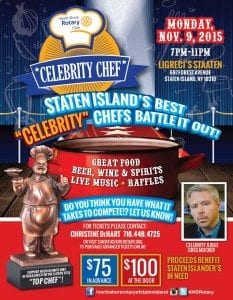 The North Shore Rotary will host its second annual Celebrity Chef, a fundraiser where prominent community "celebrities" will show off their cooking skills in an effort to raise money for local charities, on Monday November 9, 2015. The evening includes favorite dishes prepared by the chefs, live music, raffles, and a live auction.
The event will be hosted by WPIX-11 field reporter, Greg Mocker, who will double as host and guest judge.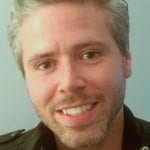 Diane Arneth (Community Health Action of Staten Island), MaryLou Bavaro (Gateway Arms Realty), Christine DeHart (Salmon Real Estate), Massimo DiDonna (Partners in Sound), Noelle Giovanniello (Pop-Star Cake Pops), Robin Lefkowitz (Northfield Bank), Cory Schifter (Casale Jewelers), Ryan Walsh (Walsh Electric) and Frank Wilkinson (Rab's Country Lanes) will all battle it out in their quest for the elusive title "Top Chef".
Cory Schifter and Frank Wilkinson look to reign as Champions for the second year in a row. Last year, Cory was selected at the Judges Favorite while Frank was selected by the attendees as the Fan Favorite! The others of course, look to steal the votes.
Guests will be invited to sample and "bid-on" their favorite dishes. The chef with the highest total of money raised will earn the Fan Favorite Top Chef title along with bragging rights.
"This event brings together community leaders to compete for bragging rights on one of their favorite activities, cooking! Last year, in this unique setting we raised over $5,000 and we plan to surpass that while providing our guests a great night", says Laura Volsario, Gateway Arms Realty, Event Co-Chair.
All proceeds will benefit Staten Island charities designated by the North Shore Rotary Club. "Every year our club works diligently to raise money to assist in alleviating some of the hardships that your Staten Island neighbors struggle with on a daily basis" said Bernie Moretti, Club President.
The event starts at 7:00pm at LiGreci's Staaten (697 Forest Avenue, 10310). Tickets are $75.00 in advance/$100 at the door and are available at www.sinorthshorerotary.org or by contacting Christine DeHart at (718) 448-4725.