Members of the North Shore Rotary Club are selling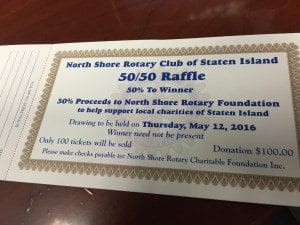 raffle tickets which will benefit the Clubs' Foundation and our mission to support Staten Islanders in need!
Only 100 chances will be sold… and you may be the lucky winner of up to $5,000! But only, if you're in it!
They say, "You've got to be in it to win it!" right?
Reach out to a Club Member today to participate!
The drawing will take place during the Clubs' Weekly Meeting, May 12, on a special evening where the club will celebrate and recognize local Seniors who have made significant contributions to our community.
The winner does not need to be present!
Are you a lucky ticket holder? Good Luck!