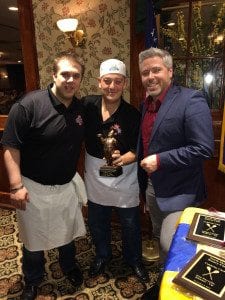 Massimo DiDonna (Partners in Sound / Carl V. Bini Memorial Fund) and Mary Lou Bavaro (Gateway Arms Realty) took home the titles of "Top Chef" during the North Shore Rotary's Celebrity Chef event held Monday evening, November 9, at LiGreci's Staaten.
Nine Local Community leaders Diane Arneth (Community Health Action of S.I.), Marylou Bavaro (Gateway Arms Realty), Regina Boukhvalova (Northfield Bank), Christine DeHart (Salmon Real Estate), Massimo DiDonna (Partners in Sound / Carl V. Bini Memorial Fund), Noelle Giovanniello (Pop-Star Cake Pops), Cory Schifter (Casale Jewelers), Jason Serapiglia (Pique Fitness), and Frank Wilkinson (Rab's Country Lanes) came together to compete in the friendly competition for the elusive titles.
Guest Host/Judge Greg Mocker (WPIX-11) selected Massimo DiDonna as the Judges pick for 'Top Chef' for his prosciutto balls.
MaryLou Bavaro won the attendees over and earned their "bids" with her famous Macaroni and Cheese and earned the distinction of 'Fan Favorite Top Chef'. Frank Wilkinson was the Fan's Runner-Up with his signature pulled-pork sliders and fried mac and cheese. Noelle Giovaniello was recognized with the Wooden Spoon award for the best decorated table.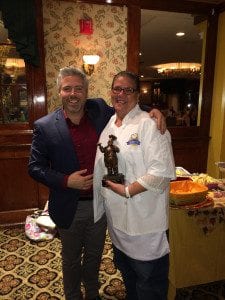 All proceeds will benefit Staten Island charities designated by the North Shore Rotary Club. "This event is just one of the ways the North Shore Rotary along with community leaders come together to have some fun while raising money for our amazing community", says Christine DeHart, Event Co-Chair.